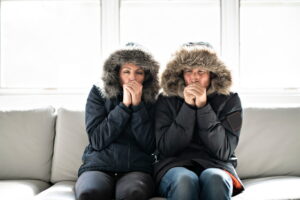 You want to stay warm and toasty through the season in your house, especially since you'll be spending more time indoors than usual. If you discover that your house isn't as warm as it should be, what can you do about it?
You might first think that the answer is to turn up the thermostat more until you feel warm. But how much more are you planning to turn it up? Higher than you normally do? If so, that's not right. Something else is wrong with your HVAC system that's resulting in less cold-weather comfort.
Rather than putting on a parka when you're indoors, call our experts to see what needs to be repaired. We're the local pros when it comes to heating and AC services in Monroe, GA.